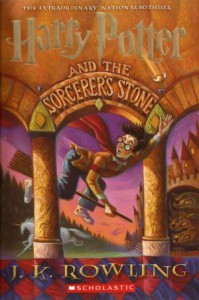 Well duh!
What else could I choose? I don't read a lot of books with teenage protagonists and this first book of the Harry Potter was good enough to make me read the whole series, even when I started getting bored with it halfway through (the series, not this book).
Note it's Philosopher's Stone, not Sorcerer's Stone which the publisher insulted Americans by changing on the premise that they wouldn't understand what Philosopher's Stone is or take the time to look it up. I hate it when publishers water down British books. I made an American friend very happy by bringing her British editions which are far better.
Yes there are cultural references that may mean more to Brit readers, but the whole school set up is for a British school!